THIS ARTICLE IS WORK IN PROGRESS
WARNING:
THIS ARTICLES CONTAINS SPOILERS!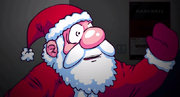 Santa is a fictional character who is said to bring children presents during Christmas.
Appearances
Edit
Tobuscus Animated Adventures #2 - Christmas
Edit
The episode begins with Toby writing a letter to Santa, asking for the gun from portal, as well as ending the letter with "amen". Only to have Gabuscus destroy the letter behind his back. Santa later appears using the gun from portal to cross from roof to roof. Eventually Santa uses the gun from portal to enter Toby's house, but ends up falling in the toilet and dropping the gun from portal. Waking up Toby, who sees the gun from portal and uses it for fun. Santa then tells Toby that the gun from portal is his, and that it replaced his sleigh in 2007. Santa then gives Toby a replica from the gun from portal, only to anger Toby when he finds out what "replica" means. Toby then tries to trick Santa into trading his gun from portal with Toby's replica, but fails. Santa then says that he needs to gun from portal to go to China, giving Toby an idea. Toby then uses the real gun from portal to open a portal in China, and another one under Santa. Santa then falls into the portal, screaming that Toby is naughty.